Schwimmerschalter,
Pegelsensoren für Flüssigkeiten

,


Differenzdrucksensoren



Schwimmerschalter

Die preiswerten Schwimmerschalter der Serie LS-7 sind ideal für Anwendungen mit hohen Stückzahlen in kleinen Tanks und Behältern. Die speziell entwickelte Kunststoffkonstruktion bietet ein hohes Mass an Verträglichkeit mit Wasser, Ölen und Chemikalien. Nylon und Versaplast® sind ideal für Öle und Treibstoffe, Versaplast® hält auch höheren Temperaturen stand. NSF-geprüftes Polypropylen ist ideal für Trinkwasseranwendungen und zahlreiche Chemikalien. Schalterfunktion Je nach Einbaulage steigt oder sinkt der Schwimmer mit dem Flüssigkeitspegel. Durch eine Drehung um 180° kann der Schalter wahlweise auf NO (Schliesser) oder NC (Öffner) eingestellt werden. Die Schalterstellung ist NO, wenn der Pfeil auf dem Gehäuse nach oben zeigt. (SPST, Normally Open - Dry SPST, Normally Closed - Dry SPDT, Shown Dry)

( Jumper to J2 on selected Input (Connection Pull-up resistor) on board BR160)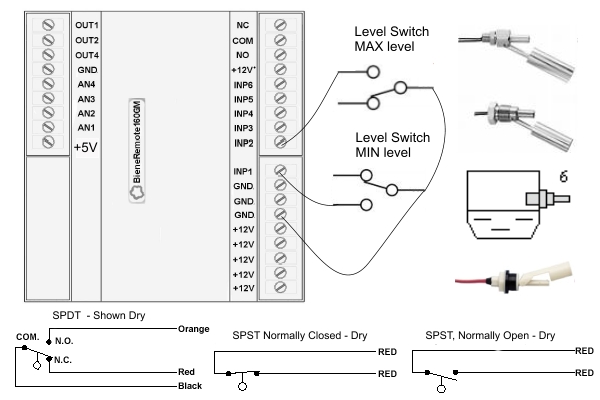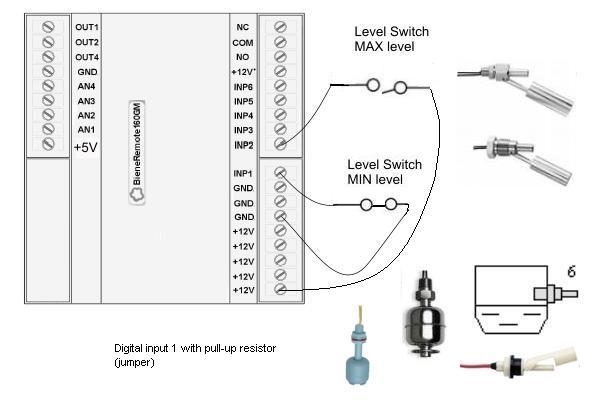 Compatibel with all our modules BR16GM, BR160GM, BR160SM, BR128GM, BR1280GM


Pegel Sensoren für Flüssigkeiten
The Model 280-WL400 Water Level Sensor provides highly accurate water level measurement for a wide variety of applications, including those in severe environments. Each submersible pressure transducer has a two-wire 4- 20 mA output signal that is linear with water depth. From 10 to 36 Vdc is required to operate the water level sensor, so the level sensors can be operated from common 12 Vdc battery systems. Each of the water level sensors consist of a solid state submersible pressure transducer encapsulated in a stainless steel 13/16" diameter housing. The water level sensor has a molded-on waterproof cable and a two-wire 4-20 mA high level output for connection to a monitoring device.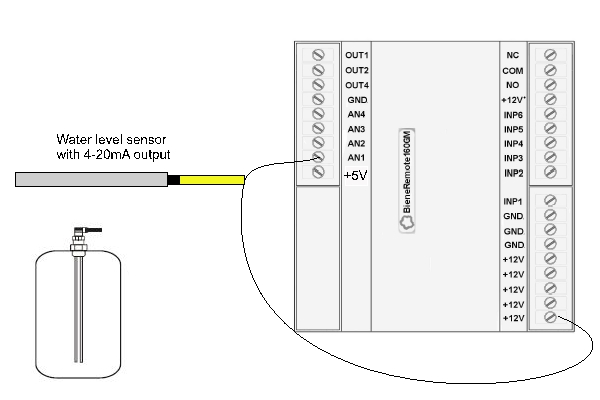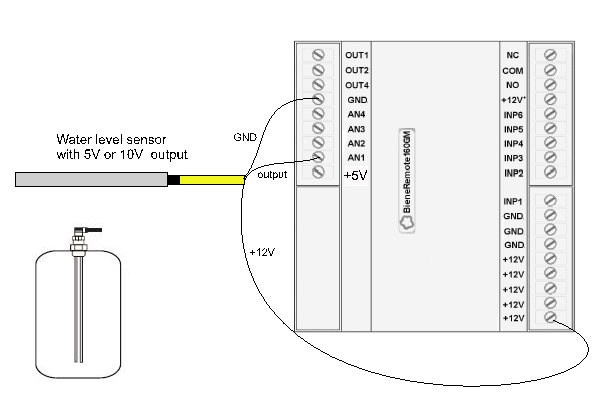 Compatibel with BR16GM-2A/-4A, BR160GM-2A/-4A, BR160SM-2A/-4A, BR128GM-4A/-Pt1000, BR1280GM
Schwimmerschalter Vewrbinding with Batterie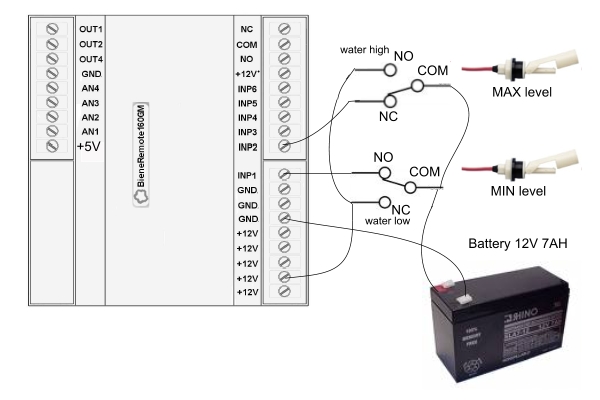 Without Jumper from J2 on selected Input ( unconnect Pull-up resistor) on board BR160

Compatibel with BR16GM-V2